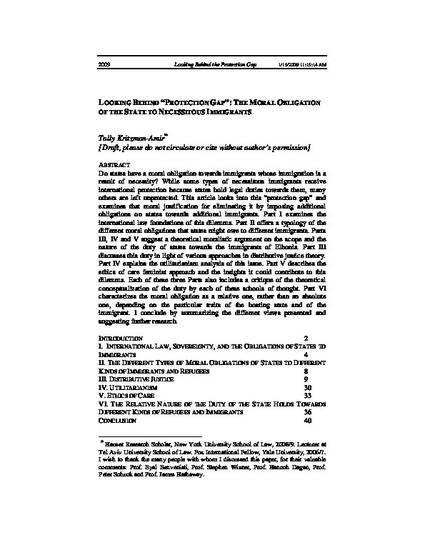 Unpublished Paper
Looking Behind 'Protection Gap': The Moral Obligation of the State to Necessitous Immigrants
ExpressO (2009)
Abstract
Do states have a moral obligation towards immigrants whose immigration is a result of necessity? While some types of necessitous immigrants receive international protection because states hold legal duties towards them, many others are left unprotected. This article looks into this "protection gap" and examines that moral justification for eliminating it by imposing additional obligations on states towards additional immigrants. Part I examines the international law foundations of this dilemma. Part II offers a typology of the different moral obligations that states might owe to different immigrants. Parts III, IV and V suggest a theoretical moralistic argument on the scope and the nature of the duty of states towards the immigrants of Elbonia. Part III discusses this duty in light of various approaches in distributive justice theory. Part IV explains the utilitarianism analysis of this issue. Part V describes the ethics of care feminist approach and the insights it could contribute to this dilemma. Each of these three Parts also includes a critique of the theoretical conceptualization of the duty by each of these schools of thought. Part VI characterizes the moral obligation as a relative one, rather than an absolute one, depending on the particular traits of the hosting state and of the immigrant. I conclude by summarizing the different views presented and suggesting further research.
Keywords
immigration,
necessity,
morality.
Publication Date
January 15, 2009
Citation Information
Tally Kritzman-Amir. "Looking Behind 'Protection Gap': The Moral Obligation of the State to Necessitous Immigrants"
ExpressO
(2009)
Available at: http://works.bepress.com/tally_kritzman_amir/2/