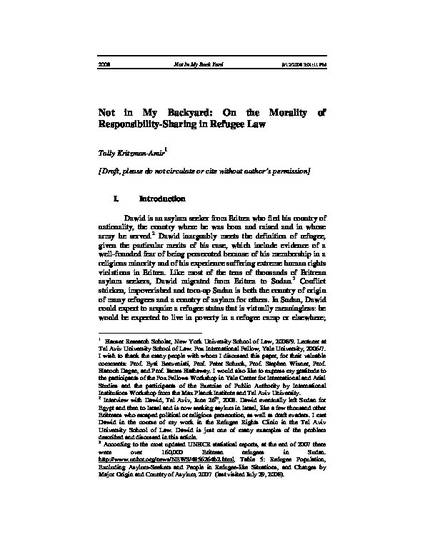 Unpublished Paper
Not in My Backyard: On the Morality of Responsibility-Sharing in Refugee Law
ExpressO (2008)
Abstract
In this article I argue that the responsibility for protecting of refugees should be shared between the states of the world, rather than allocated in a random manner to the first country of asylum. I will start by explaining why the protection and provision of assistance to refugees is a responsibility-sharing problem. I will turn to discussing the moral considerations which should lead to responsibility-sharing efforts in the context of refugee migration. Then I will offer specific criteria to govern the allocation of responsibility to each country, which should be balanced and weighed against each-other in each refugee crisis, to determine responsibility allocation. Following the moral analysis, I will attempt to explain the basis of responsibility-sharing in international law and international relations. I will also suggest some theoretical models of how this responsibility-sharing can be conducted. Finally, I will discuss the institutional aspect of responsibility-sharing, explaining which institutions could play a role in regulating responsibility-sharing and what their potential role could be.
Publication Date
September 12, 2008
Citation Information
Tally Kritzman-Amir. "Not in My Backyard: On the Morality of Responsibility-Sharing in Refugee Law"
ExpressO
(2008)
Available at: http://works.bepress.com/tally_kritzman_amir/1/