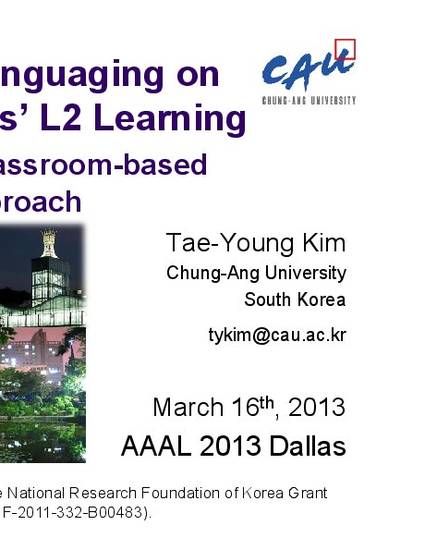 Presentation
The Effect of Languaging on Korean Students' L2 Learning Motivation: A Classroom-based Mixed Methods Approach
American Association for Applied Linguistics 2013 (2013)
Abstract
This paper focuses on the effect of languaging activity on students' L2 learning motivation. Swain (2006, p. 98) defines languaging as "the process of making meaning and shaping knowledge and experience through language." To date, most of languaging research investigated its impact on L2 learners' cognition. I endeavor to extend its original notion to the domain of motivation. Based on Dörnyei's (2009) L2 Motivational Self-System, the effect of languaging on students' L2 selves and their teachers' reflection will be investigated in this paper.
In Spring 2012, three English teachers implemented four different languaging conditions for their students: 1) written languaging (English learning diary), 2) written languaging (short reflective writing), 3) verbal languaging (group discussion), and 4) controlled conditions. Students in the written languaging condition first watched a short video clip and read a passage on a Korean (e.g., Mr. Ban Ki-Moon, UN Secretary General) speaking excellent English as an L2, and then wrote reflective essays about it. Students in the verbal languaging condition first watched a short video clip on a similar case about English use, and discussed how the video clip was related to their ideal L2 self. The languaging activity lasted throughout the semester; seven times for 15 minutes before or after the lesson. By using questionnaires, students' motivational changes including their L2 selves were measured three times. The English teacher interviews were conducted after the semester.
The results indicated that students in the written languaging group showed a significant increase in their motivation, and the other groups did not demonstrate such changes. The teacher interviews revealed that written languaging provided the students with the chance to critically recollect their past L2 learning experiences without being interrupted by their peers, which was not the case in the other conditions. This implies that written languaging can be adopted for an mediational tool enhancing and maintaining students' L2 learning motivation.
Keywords
L2 Motivation,
Demotivation,
Languaging,
Motivational Languaging Activity,
Elementary School,
Junior High School
Citation Information
Tae-Young Kim. "The Effect of Languaging on Korean Students' L2 Learning Motivation: A Classroom-based Mixed Methods Approach"
American Association for Applied Linguistics 2013
(2013)
Available at: http://works.bepress.com/taeyoungkim/30/