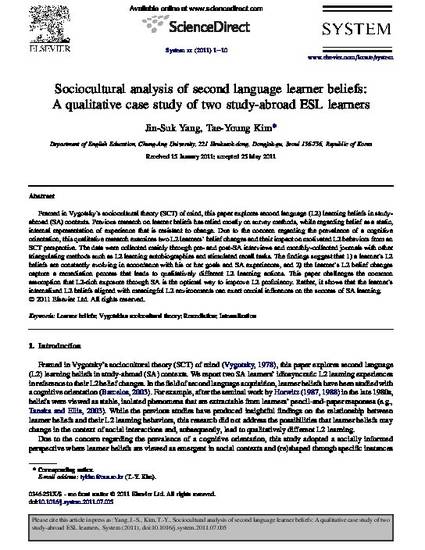 Article
Sociocultural analysis of second language learner beliefs: A qualitative case study of two study-abroad ESL learners
SYSTEM (2011)
Abstract
Framed in Vygotsky's sociocultural theory (SCT) of mind, this paper explores second language (L2) learning beliefs in study-abroad (SA) contexts. Previous research on learner beliefs has relied mostly on survey methods, while regarding belief as a static, internal representation of experience that is resistant to change. Due to the concern regarding the prevalence of a cognitive orientation, this qualitative research examines two L2 learners' belief changes and their impact on motivated L2 behaviors from an SCT perspective. The data were collected mainly through pre- and post-SA interviews and monthly-collected journals with other triangulating methods such as L2 learning autobiographies and stimulated recall tasks. The findings suggest that 1) a learner's L2 beliefs are constantly evolving in accordance with his or her goals and SA experiences, and 2) the learner's L2 belief changes capture a remediation process that leads to qualitatively different L2 learning actions. This paper challenges the common assumption that L2-rich exposure through SA is the optimal way to improve L2 proficiency. Rather, it shows that the learner's internalized L2 beliefs aligned with meaningful L2 environments can exert crucial influences on the success of SA learning.
Keywords
Learner Beliefs,
Vygotskian Sociocultural Theory,
Remediation,
Internalization
Publication Date
Fall September 30, 2011
Citation Information
Jin-Suk Yang and Tae-Young Kim. "Sociocultural analysis of second language learner beliefs: A qualitative case study of two study-abroad ESL learners"
SYSTEM
(2011)
Available at: http://works.bepress.com/taeyoungkim/25/