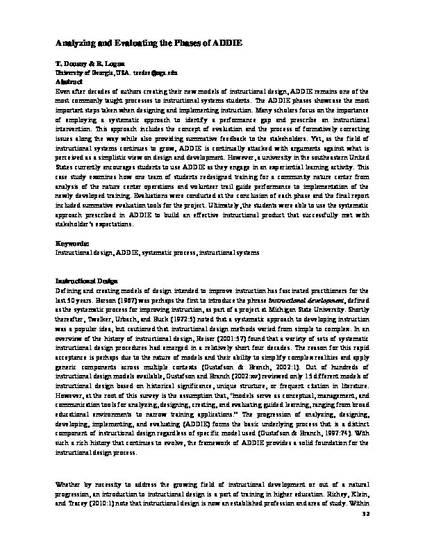 Presentation
Analyzing and Evaluating the Phases of ADDIE
Design, Development & Research Conference (2011)
Abstract
Even after decades of authors creating their new models of instructional design, ADDIE remains one of the most commonly taught processes to instructional systems students. The ADDIE phases showcase the most important steps taken when designing and implementing instruction. Many scholars focus on the importance of employing a systematic approach to identify a performance gap and prescribe an instructional intervention. This approach includes the concept of evaluation and the process of formatively correcting issues along the way while also providing summative feedback to the stakeholders. Yet, as the field of instructional systems continues to grow, ADDIE is continually attacked with arguments against what is perceived as a simplistic view on design and development. However, a university in the southeastern UnitedStates currently encourages students to use ADDIE as they engage in an experiential learning activity. This case study examines how one team of students redesigned training for a community nature center from analysis of the nature center operations and volunteer trail guide performance to implementation of the newly developed training. Evaluations were conducted at the conclusion of each phase and the final report included summative evaluation tools for the project. Ultimately, the students were able to use the systematic approach prescribed in ADDIE to build an effective instructional product that successfully met with stakeholder's expectations.
Keywords
instructional design,
addie,
evaluation,
models
Citation Information
Tonia A. Dousay and Regene D. Logan. "Analyzing and Evaluating the Phases of ADDIE"
Design, Development & Research Conference
(2011)
Available at: http://works.bepress.com/tadousay/3/