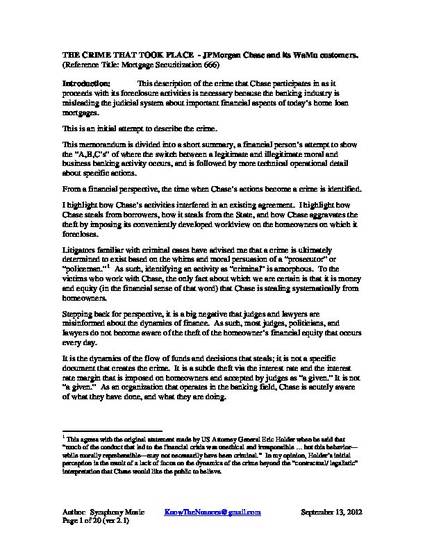 Unpublished Paper
Mortgage Securitization 666: The Crime That Took Place - JPMorgan Chase and its WaMu customers
SymphonyMusic discussions about Securitization (2012)
Abstract
This description of the crime that Chase participates in as it proceeds with its foreclosure activities is necessary because the banking industry is misleading the judicial system about important financial aspects of today's home loan mortgages. This is an initial attempt to describe the crime, including references to La Cosa Nostra and the crime families.
Keywords
Criminal misbehavior of banks,
tax evasion,
harrasment,
deceitfulness towards the Court,
monopoly,
oligopoly
Publication Date
September 13, 2012
Citation Information
Symphony Music. "Mortgage Securitization 666: The Crime That Took Place - JPMorgan Chase and its WaMu customers"
SymphonyMusic discussions about Securitization
(2012)
Available at: http://works.bepress.com/symphonymusic/6/