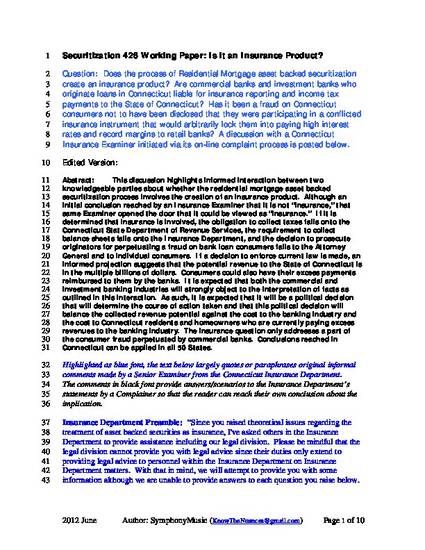 Unpublished Paper
Mortgage Securitization 426 Working Paper: Is it an Insurance Product?
SymphonyMusic discussions about Securitization (2012)
Abstract
This discussion highlights informed interaction between two knowledgeable parties about whether the residential mortgage asset backed securitization process involves the creation of an insurance product. Although an initial conclusion reached by an Insurance Examiner that it is not "insurance," that same Examiner opened the door that it could be viewed as "insurance." If it is determined that insurance is involved, the obligation to collect taxes falls onto the Connecticut State Department of Revenue Services, the requirement to collect balance sheets falls onto the Insurance Department, and the decision to prosecute originators for perpetuating a fraud on bank loan consumers falls to the Attorney General and to individual consumers. If a decision to enforce current law is made, an informed projection suggests that the potential revenue to the State of Connecticut is in the multiple billions of dollars. Consumers could also have their excess payments reimbursed to them by the banks. It is expected that both the commercial and investment banking industries will strongly object to the interpretation of facts as outlined in this interaction. As such, it is expected that it will be a political decision that will determine the course of action taken and that this political decision will balance the collected revenue potential against the cost to the banking industry and the cost to Connecticut residents and homeowners who are currently paying excess revenues to the banking industry. The insurance question only addresses a part of the consumer fraud perpetuated by commercial banks. Conclusions reached in Connecticut can be applied in all 50 States.
Keywords
Securitization,
mortgage backed securities,
insurance,
insurance definition,
premium vs interest
Publication Date
June, 2012
Citation Information
Symphony Music. "Mortgage Securitization 426 Working Paper: Is it an Insurance Product?"
SymphonyMusic discussions about Securitization
(2012)
Available at: http://works.bepress.com/symphonymusic/3/