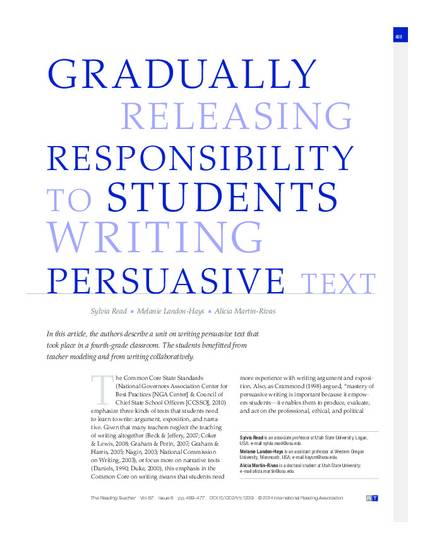 Article
Gradually Releasing Responsibility to Students Writing Persuasive Text
The Reading Teacher (2014)
Abstract
The emphasis on improving writing instruction, especially the writing of non-narrative texts, may lead some teachers to seek effective ways to teach students. The IMSCI model, a scaffolded model for writing instruction, is useful for planning effective instruction. This article describes a research project conducted in a 4th grade classroom emphasizing the combined benefits of scaffolded instruction and genre study and testing scaffolded persuasive writing lessons based on the IMSCI model. Researchers wrote lesson plans using the IMSCI model as the underlying structure and tied the lessons to science objectives for fourth grade. Teachers implemented the lessons in their classrooms and student essays were collected as data. Results from this study suggest there are positive outcomes in student writing as a result of a focus on genre in a scaffolded instructional setting.
Keywords
scaffolding,
gradual release of responsibility,
writing instruction,
persuasive writing,
Common Core
Citation Information
Sylvia Read, Melanie Landon-Hays and Alicia Martin-Rivas. "Gradually Releasing Responsibility to Students Writing Persuasive Text"
The Reading Teacher
Vol. 67 Iss. 6 (2014)
Available at: http://works.bepress.com/sylviaread/26/