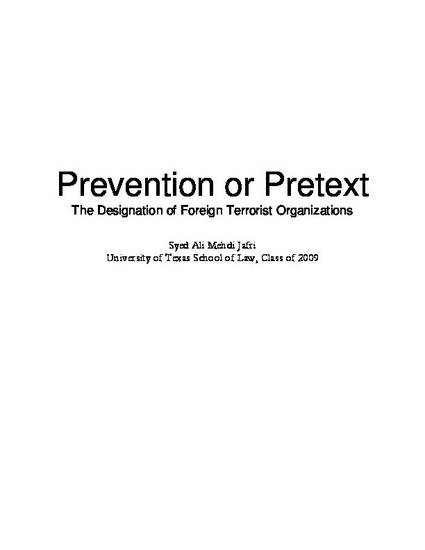 Unpublished Paper
Prevention or Pretext: The Designation of Foreign Terrorist Organizations
ExpressO (2009)
Abstract
This paper examines whether the "Foreign Terrorist Organization" & "Specially Designated Foreign Terrorists" designations are applied in a consistent manner. The author concludes that the designations are applied inconsistently and are used in the post September 11th era as a tool not only against legitimate terrorist targets, but also against the ideological opponents of United States foreign policy. Specifically the designations are used against Islamic based political movements. The pre-textual use of terrorist designations against ideological opponents weakens the United States position in the battle against terrorism, and undermines their legitimate security concerns. The current application of the designation schemes are not in the policy interests of the United States and its citizens.
Keywords
terrorism,
terrorist,
FTO,
SDGT,
policy,
Palestine,
Foreign Terrorist Organizations,
Hamas
Publication Date
March 22, 2009
Citation Information
Syed Ali M. Jafri. "Prevention or Pretext: The Designation of Foreign Terrorist Organizations"
ExpressO
(2009)
Available at: http://works.bepress.com/syed_ali_jafri/1/