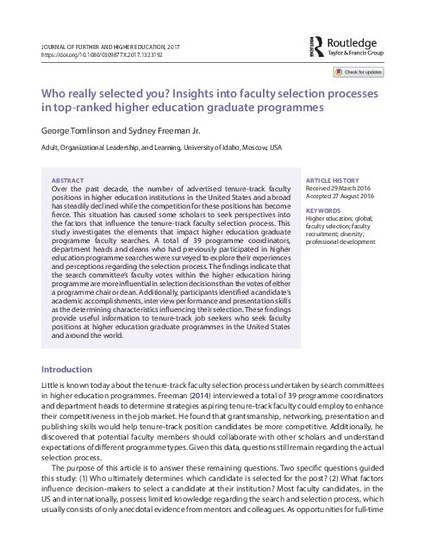 Article
Who really selected you? Insights into faculty selection processes: In top-ranked higher education graduate programmes
Journal of Further and Higher Education (2017)
Abstract
Over the past decade, the number of advertised tenure-track facultypositions in higher education institutions in the United States and abroadhas steadily declined while the competition for these positions has becomefierce. This situation has caused some scholars to seek perspectives intothe factors that influence the tenure-track faculty selection process. Thisstudy investigates the elements that impact higher education graduateprogramme faculty searches. A total of 39 programme coordinators,department heads and deans who had previously participated in highereducation programme searches were surveyed to explore their experiencesand perceptions regarding the selection process. The findings indicate thatthe search committee's faculty votes within the higher education hiringprogramme are more influential in selection decisions than the votes of eithera programme chair or dean. Additionally, participants identified a candidate'sacademic accomplishments, interview performance and presentation skillsas the determining characteristics influencing their selection. These findingsprovide useful information to tenure-track job seekers who seek facultypositions at higher education graduate programmes in the United Statesand around the world.
Keywords
higher education,
global,
faculty selection,
faculty recruitment,
diversity,
professional development
Citation Information
George Tomlinson and Sydney Freeman. "Who really selected you? Insights into faculty selection processes: In top-ranked higher education graduate programmes"
Journal of Further and Higher Education
(2017) p. 1 - 13
Available at: http://works.bepress.com/sydney_freeman_jr/52/