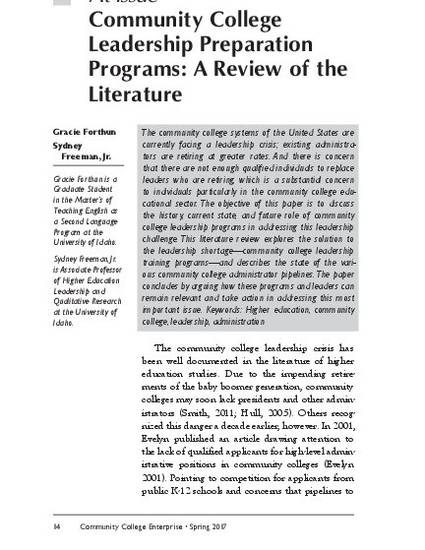 Article
Community College Leadership Programs: A Review of the Literature
Community College Enterprise (2017)
Abstract
The community college systems of the United States arecurrently facing a leadership crisis; existing administra- tors are retiring at greater rates. And there is concern that there are not enough qualified individuals to replace leaders who are retiring, which is a substantial concern to individuals particularly in the community college educational sector. The objective of this paper is to discuss the history, current state, and future role of community college leadership programs in addressing this leadership challenge. This literature review explores the solution to the leadership shortage—community college leadership training programs—and describes the state of the vari- ous community college administrator pipelines.The paper concludes by arguing how these programs and leaders can remain relevant and take action in addressing this most important issue.
Keywords
Higher education,
community college,
leadership,
administration
Publication Date
Spring 2017
Citation Information
Sydney Freeman and Gracie Forthun. "Community College Leadership Programs: A Review of the Literature"
Community College Enterprise
Iss. 1 (2017) p. 14 - 26
Available at: http://works.bepress.com/sydney_freeman_jr/50/