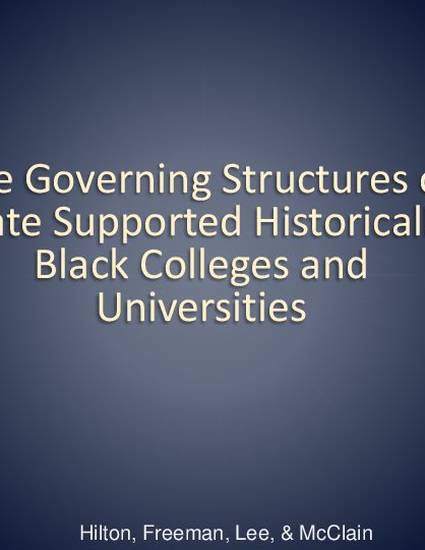 Presentation
Governing Boards at HBCUs
ASHE/Denver (2015)
Abstract
Historically Black Colleges and Universities (HBCUs) have been a staple in United States higher education system for over a century.  Once seen as venues that only educated underrepresented Black Americans, HBCUs have been widely embraced as academic centers for all cultures.  In recent decades board governance at public HBCUs have been besieged due to low state funds.  Policies used to govern the selection of public HBCU board of trustees have since eroded; therefore, greatly changing the quality and the selection of board candidates. The paper sought to gather information regarding the policies that govern the selection of public HBCU boards of trustees. The second purpose of the study is to examine the ways in which these policies shape the quality of the selection candidates. This study provides those within the HBCU community, as well as those seeking to understand governance issues surrounding HBCUs, with comprehensive data regarding HBCU board selection policies. Findings from this study will enable these groups and individuals to have a greater understanding of the selection processes of current HBCU board members, which may assist them in future decision making.
Citation Information
Sydney Freeman, Adriel Adon Hilton and John M. Lee. "Governing Boards at HBCUs"
ASHE/Denver
(2015)
Available at: http://works.bepress.com/sydney_freeman_jr/40/