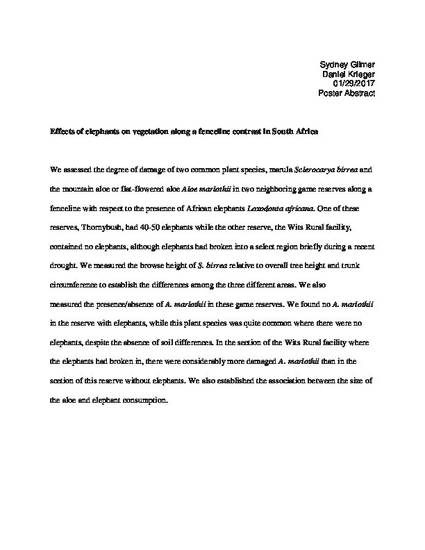 Presentation
Effects of elephants on vegetation along a fenceline contrast in South Africa
Kent State University (2017)
Abstract
Sydney Gilmer
Daniel Krieger
01/29/2017
Poster Abstract
Effects of elephants on vegetation along a fenceline contrast in South Africa
We assessed the degree of damage of two common plant species, marula Sclerocarya birrea and
the mountain aloe or flat-flowered aloe Aloe marlothii in two neighboring game reserves along a
fenceline with respect to the presence of African elephants Loxodonta africana. One of these
reserves, Thornybush, had 40-50 elephants while the other reserve, the Wits Rural facility,
contained no elephants, although elephants had broken into a select region briefly during a recent
drought. We measured the browse height of S. birrea relative to overall tree height and trunk
circumference to establish the differences among the three different areas. We also
measured the presence/absence of A. marlothii in these game reserves. We found no A. marlothii
in the reserve with elephants, while this plant species was quite common where there were no
elephants, despite the absence of soil differences. In the section of the Wits Rural facility where
the elephants had broken in, there were considerably more damaged A. marlothii than in the
scetion of this reserve without elephants. We also established the association between the size of
the aloe and elephant consumption.
Publication Date
Winter January 29, 2017
Citation Information
Daniel Krieger and Sydney D Gilmer. "Effects of elephants on vegetation along a fenceline contrast in South Africa"
Kent State University
(2017)
Available at: http://works.bepress.com/sydney-gilmer/1/