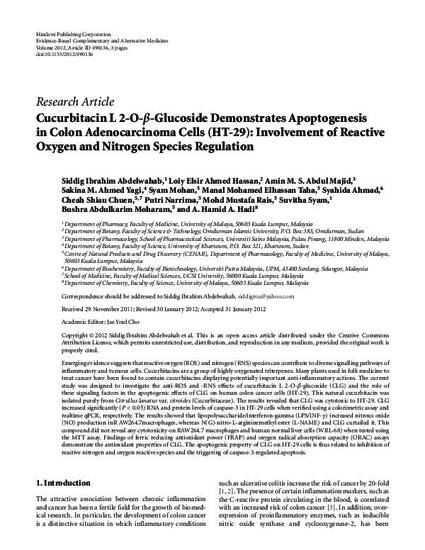 Article
Cucurbitacin L 2-O- glucoside demonstrates apoptogenesis in colon adenocarcinoma cells (HT-29): involvement of reactive oxygen and nitrogen species regulation
Evidence-Based Complementary and Alternative Medicine (2012)
Abstract
Emerging evidence suggests that reactive oxygen (ROS) and nitrogen (RNS) species can contribute to diverse signalling pathways of inflammatory and tumour cells. Cucurbitacins are a group of highly oxygenated triterpenes. Many plants used in folk medicine to treat cancer have been found to contain cucurbitacins displaying potentially important anti-inflammatory actions. The current study was designed to investigate the anti-ROS and -RNS effects of cucurbitacin L 2-O-β-glucoside (CLG) and the role of these signaling factors in the apoptogenic effects of CLG on human colon cancer cells (HT-29). This natural cucurbitacin was isolated purely from Citrullus lanatus var. citroides (Cucurbitaceae). The results revealed that CLG was cytotoxic to HT-29. CLG increased significantly ( ) RNA and protein levels of caspase-3 in HT-29 cells when verified using a colorimetric assay and realtime qPCR, respectively. The results showed that lipopolysaccharide/interferon-gamma (LPS/INF-γ) increased nitrous oxide (NO) production inR AW264.7macrophages, whereas N(G)-nitro-L-argininemethyl ester (L-NAME) and CLG curtailed it. This compound did not reveal any cytotoxicity on RAW264.7 macrophages and human normal liver cells (WRL-68) when tested using the MTT assay. Findings of ferric reducing antioxidant power (FRAP) and oxygen radical absorption capacity (ORAC) assays demonstrate the antioxidant properties of CLG. The apoptogenic property of CLG on HT-29 cells is thus related to inhibition of reactive nitrogen and oxygen reactive species and the triggering of caspase-3-regulated apoptosis.
Keywords
syam mohan,
apoptois,
pharmacology,
cancer,
natural product
Citation Information
Dr Syam Mohan. "Cucurbitacin L 2-O- glucoside demonstrates apoptogenesis in colon adenocarcinoma cells (HT-29): involvement of reactive oxygen and nitrogen species regulation"
Evidence-Based Complementary and Alternative Medicine
(2012)
Available at: http://works.bepress.com/syammohanm/6/