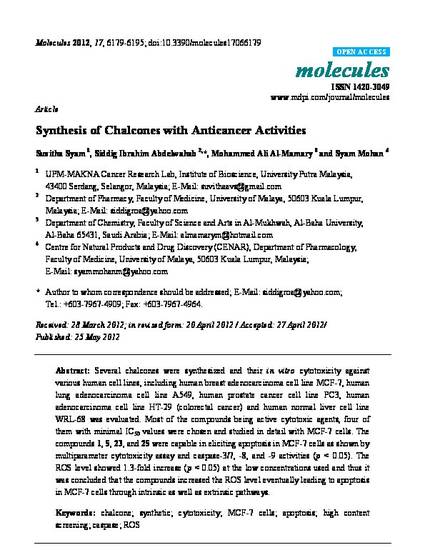 Article
Synthesis of Chalcones with Anticancer Activities.
Molecules (2012)
Abstract
Several chalcones were synthesized and their in vitro cytotoxicity against various human cell lines, including human breast adenocarcinoma cell line MCF-7, human lung adenocarcinoma cell line A549, human prostate cancer cell line PC3, human adenocarcinoma cell line HT-29 (colorectal cancer) and human normal liver cell line WRL-68 was evaluated. Most of the compounds being active cytotoxic agents, four of them with minimal IC50 values were chosen and studied in detail with MCF-7 cells. The compounds 1, 5, 23, and 25 were capable in eliciting apoptosis in MCF-7 cells as shown by multiparameter cytotoxicity assay and caspase-3/7, -8, and -9 activities (p < 0.05). The ROS level showed 1.3-fold increase (p < 0.05) at the low concentrations used and thus it was concluded that the compounds increased the ROS level eventually leading to apoptosis in MCF-7 cells through intrinsic as well as extrinsic pathways.
Keywords
syam mohan,
apoptois,
pharmacology,
cancer,
natural product
Citation Information
Dr Syam Mohan. "Synthesis of Chalcones with Anticancer Activities."
Molecules
(2012)
Available at: http://works.bepress.com/syammohanm/12/