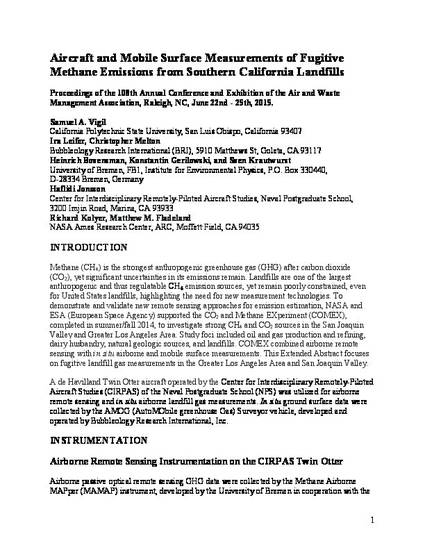 Presentation
Aircraft and Mobile Surface Measurements of Fugitive Methane Emissions from Southern California Landfills
Proceedings of the 108th Annual Conference and Exhibition of the Air and Waste Management Association (2015)
Abstract
Landfills are one of the largest anthropogenic and thus regulatable
CH4
emission sources, yet remain poorly constrained, even for the United States, highlighting the need for new measurement technologies. To demonstrate and validate new remote sensing approaches to emission estimation, NASA and ESA (European Space Agency) sponsored the Carbon Dioxide and Methane EXperiment (COMEX) campaign, completed in summer 2014, to investigate strong greenhouse gases (GHG) – methane (
CH4
) and carbon dioxide (CO2) – in the San Joaquin Valley and Greater Los Angeles Area. Study foci included fossil fuel production and refining, animal husbandry, natural geologic sources, and landfills. COMEX combined airborne remote sensing with
in situ
airborne and mobile surface measurements. This Extended Abstract focuses on fugitive landfill gas measurements in the Greater Los Angeles Area.
A de Havilland Twin Otter aircraft operated by the
Center for Interdisciplinary Remotely-Piloted Aircraft Studies (CIRPAS) of the Naval Postgraduate School (NPS) was utilized for airborne remote sensing and
in situ
landfill gas measurements.
In situ
ground surface data were collected by the AMOG (Automobile Greenhouse Gas) Surveyor vehicle developed and operated by Bubbleology Research International.
Publication Date
Summer June 22, 2015
Citation Information
Samuel A. Vigil, Ira Leifer, Heinrich Bovensmann, Konstantin Gerilowski, et al.. "Aircraft and Mobile Surface Measurements of Fugitive Methane Emissions from Southern California Landfills"
Proceedings of the 108th Annual Conference and Exhibition of the Air and Waste Management Association
(2015)
Available at: http://works.bepress.com/svigil/35/