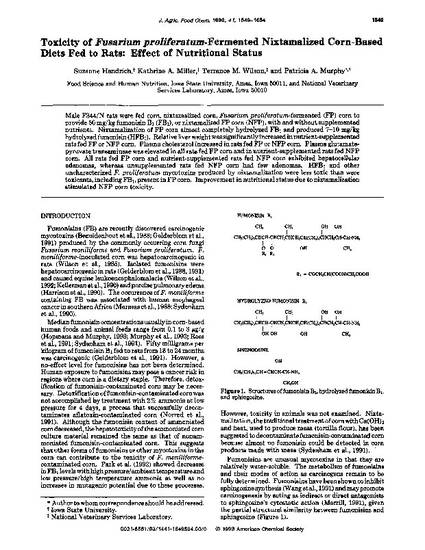 Article
Toxicity of Fusarium proliferatum-fermented nixtamalized corn-based diets fed to rats: Effect of nutritional status
Journal of Agricultural and Food Chemistry
Publication Date
10-1-1993
Abstract
Male F344/ N rats were fed corn, nixtamalized corn, Fusarium proli feratum- fermented (FP) corn to provide 50 mg/kg fumonisin B1 (FB1), or nixtamalized FP corn (NFP), with and without supplemented nutrients. Nixtamalization of FP corn almost completely hydrolyzed FB1 and produced 7-10 mg/kg hydrolyzed fumonisin (HFB1). Relative liver weight was significantly increased in nutrient-supplemented rats fed FP or NFP corn. Plasma cholesterol increased in rats fed FP or NFP corn. Plasma glutamate­ pyruvate transaminase was elevated in allrats fed FP corn and in nutrient-supplemented rats fed NFP corn. All rats fed FP corn and nutrient-supplemented rats fed NFP corn exhibited hepatocellular adenomas, whereas unsupplemented rats fed NFP corn had few adenomas. HFB1 and other uncharacterized F. proli feratum mycotoxins produced by nixtamalization were less toxic than were toxicants, including FB1, present in FP corn. Improvement in nutritional status due to nixtamalization stimulated NFP corn toxicity.
Rights
One-time permission is granted only for the use specified in your request. No additional uses are granted (such as derivative works or other editions).
Copyright Owner
American Chemical Society
File Format
application/pdf
Citation Information
Suzanne Hendrich, Kathrine A. Miller, Terrance M. Wilson and Patricia A. Murphy. "Toxicity of Fusarium proliferatum-fermented nixtamalized corn-based diets fed to rats: Effect of nutritional status"
Journal of Agricultural and Food Chemistry
Vol. 41 Iss. 10 (1993) p. 1649 - 1654
Available at: http://works.bepress.com/suzanne_hendrich/27/