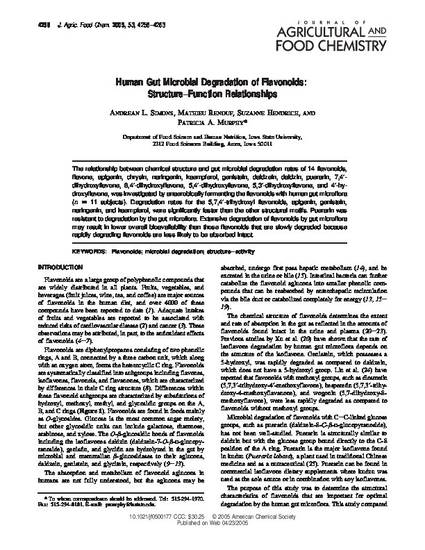 Article
Human Gut Microbial Degradation of Flavonoids:  Structure−Function Relationships
Journal of Agricultural and Food Chemistry
Publication Date
4-23-2005
Abstract
The relationship between chemical structure and gut microbial degradation rates of 14 flavonoids, flavone, apigenin, chrysin, naringenin, kaempferol, genistein, daidzein, daidzin, puerarin, 7,4'-dihydroxyflavone, 6,4'-dihydroxyflavone, 5,4'-dihydroxyflavone, 5,3'-dihydroxyflavone, and 4'-hydroxyflavone, was investigated by anaerobically fermenting the flavonoids with human gut microflora (n = 11 subjects). Degradation rates for the 5,7,4'-trihydroxyl flavonoids, apigenin, genistein, naringenin, and kaempferol, were significantly faster than the other structural motifs. Puerarin was resistant to degradation by the gut microflora. Extensive degradation of flavonoids by gut microflora may result in lower overall bioavailability than those flavonoids that are slowly degraded because rapidly degrading flavonoids are less likely to be absorbed intact.
Rights
One-time permission is granted only for the use specified in your request. No additional uses are granted (such as derivative works or other editions).
Copyright Owner
American Chemical Society
File Format
application/pdf
Citation Information
Andrean L. Simons, Mathieu Renouf, Patricia A. Murphy and Suzanne Hendrich. "Human Gut Microbial Degradation of Flavonoids:  Structure−Function Relationships"
Journal of Agricultural and Food Chemistry
Vol. 53 Iss. 10 (2005) p. 4258 - 4263
Available at: http://works.bepress.com/suzanne_hendrich/21/