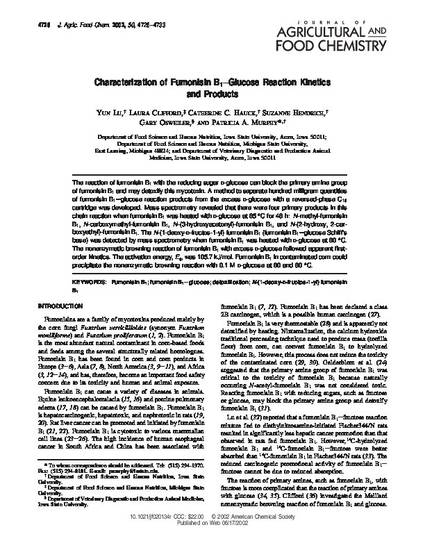 Article
Characterization of Fumonisin B1-GlucoseReaction Kinetics and Products
Journal of Agricultural and Food Chemistry
Publication Date
6-17-2002
Abstract
The reaction of fumonisin B1 with the reducing sugar D-glucose can block the primary amine group of fumonisin B1 and may detoxify this mycotoxin. A method to separate hundred milligram quantities of fumonisin B1-glucose reaction products from the excess D-glucose with a reversed-phase C18 cartridge was developed. Mass spectrometry revealed that there were four primary products in this chain reaction when fumonisin B1 was heated with D-glucose at 65 C for 48 h: N-methyl-fumonisin B1, N-carboxymethyl-fumonisin B1, N-(3-hydroxyacetonyl)-fumonisin B1, and N-(2-hydroxy, 2-car- boxyethyl)-fumonisin B1. The N-(1-deoxy-D-fructos-1-yl) fumonisin B1 (fumonisin B1-glucose Schiff's base) was detected by mass spectrometry when fumonisin B1 was heated with D-glucose at 60 C. The nonenzymatic browning reaction of fumonisin B1 with excess D-glucose followed apparent first- order kinetics. The activation energy, Ea, was 105.7 kJ/mol. Fumonisin B1 in contaminated corn could precipitate the nonenzymatic browning reaction with 0.1 M D-glucose at 60 and 80
Rights
On-time permission is granted only for the use specified in your request. No additional uses are granted (such as derivative works or other editions).
Copyright Owner
American Chemical Society
File Format
application/pdf
Citation Information
Yun Lu, Laura Clifford, Catherine C. Hauck, Suzanne Hendrich, et al.. "Characterization of Fumonisin B1-GlucoseReaction Kinetics and Products"
Journal of Agricultural and Food Chemistry
Vol. 50 Iss. 16 (2002) p. 4726 - 4733
Available at: http://works.bepress.com/suzanne_hendrich/13/