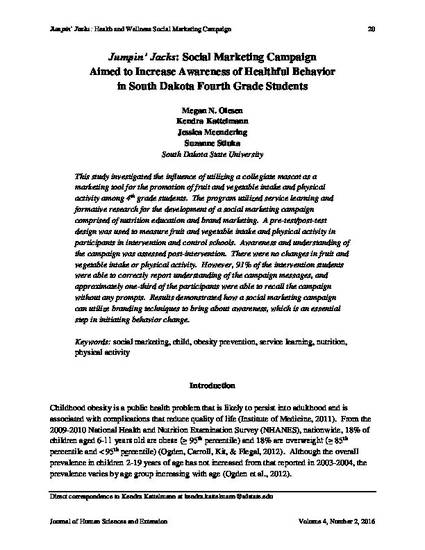 Article
Jumpin' Jacks: Social Marketing Campaign Aimed to Increase Awareness of Healthful Behavior in South Dakota Fourth Grade Students
Journal of Human Sciences and Extension
Publication Date
6-1-2016
Keywords
social marketing,
child,
obesity prevention,
service learning,
nutrition,
physical activity
Abstract
This study investigated the influence of utilizing a collegiate mascot as a marketing tool for the promotion of fruit and vegetable intake and physical activity among 4th grade students. The program utilized service learning and formative research for the development of a social marketing campaign comprised of nutrition education and brand marketing. A pre-test/post-test design was used to measure fruit and vegetable intake and physical activity in participants in intervention and control schools. Awareness and understanding of the campaign was assessed post-intervention. There were no changes in fruit and vegetable intake or physical activity. However, 91% of the intervention students were able to correctly report understanding of the campaign messages, and approximately one-third of the participants were able to recall the campaign without any prompts. Results demonstrated how a social marketing campaign can utilize branding techniques to bring about awareness, which is an essential step in initiating behavior change.
Publisher
School of Human Sciences at Mississippi State University
Rights
Copyright © the Authors
Creative Commons License
Creative Commons Attribution-Noncommercial-No Derivative Works 3.0
Citation Information
Megan N. Olesen, Kendra Kattelmann, Jessica Meendering and Suzanne Stluka. "Jumpin' Jacks: Social Marketing Campaign Aimed to Increase Awareness of Healthful Behavior in South Dakota Fourth Grade Students"
Journal of Human Sciences and Extension
Vol. 4 Iss. 2 (2016) p. 20 - 33
Available at: http://works.bepress.com/suzanne-stluka/3/