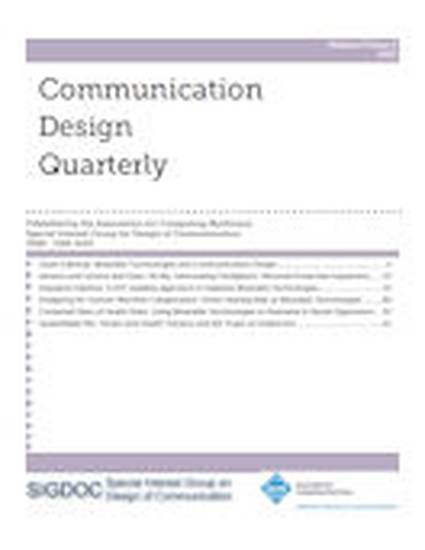 Article
Exploring Accessibility as a Potential Area of Research for Technical Communication: A Modest Proposal
Communication Design Quarterly Review
Publication Date
8-1-2013
Abstract
This position paper proposes the undertaking of a systematic research agenda on the tangled questions of accessibility, technology, and disability from the perspective of Technical Communication field. O'Hara (2004), Oswal and Hewett (2013), Palmeri (2006), Porter (1997), Ray and Ray (1999), Salvo (2005), Slatin and Rush (2003), Theofanos and Redish (2003 and 2005), and Walters (2010), have approached accessibility issues in various Technical Communication contexts and have emphasized the need for more attention to accessibility in our research, teaching, and practice. Likewise, the major journals in our field--Technical Communication, Technical Communication Quarterly and the IEEE Transactions in Professional Communication---have also published at least one special issue EACH on the topic of accessibility. While all this sporadic research has appeared on accessibility-related topics in different venues, this research has not yet gained the type of traction one would generally expect from an area with such a growth potential. As a user-centered discipline, we also ought to remember that presently 57.8 million Americans have one or more disabilities. Among the U.S. veteran population alone, 5.5 million are disabled. And, if we consider the reach of our Technical Communication work via the World Wide Web, this planet has 1 billion people with disabilities who can be affected by our accessibility research (National Center for Disability, 2013).
Version
policy not available on SHERPA/RoMEO
Citation Information
Sushil K. Oswal. "Exploring Accessibility as a Potential Area of Research for Technical Communication: A Modest Proposal"
Communication Design Quarterly Review
Vol. 1 Iss. 4 (2013) p. 50 - 60
Available at: http://works.bepress.com/sushil_oswal/3/