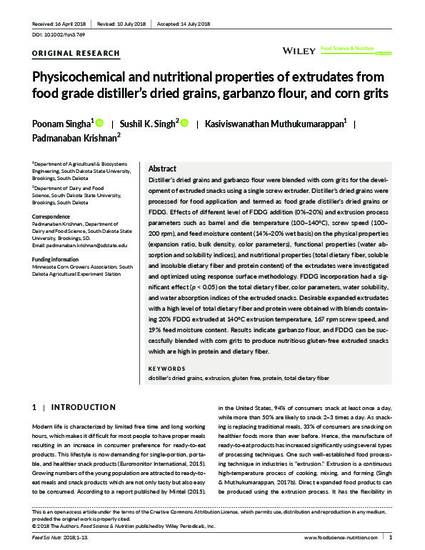 Article
Physicochemical and nutritional properties of extrudates from food grade distiller's dried grains, garbanzo flour, and corn grits
Food Science and Nutrition (2018)
Abstract
Distiller's dried grains and garbanzo flour were blended with corn grits for the development of extruded snacks using a single screw extruder. Distiller's dried grains were processed for food application and termed as food grade distiller's dried grains or FDDG. Effects of different level of FDDG addition (0%–20%) and extrusion process parameters such as barrel and die temperature (100–140°C), screw speed (100–200 rpm), and feed moisture content (14%–20% wet basis) on the physical properties (expansion ratio, bulk density, color parameters), functional properties (water absorption and solubility indices), and nutritional properties (total dietary fiber, soluble and insoluble dietary fiber and protein content) of the extrudates were investigated and optimized using response surface methodology. FDDG incorporation had a significant effect (p < 0.05) on the total dietary fiber, color parameters, water solubility, and water absorption indices of the extruded snacks. Desirable expanded extrudates with a high level of total dietary fiber and protein were obtained with blends containing 20% FDDG extruded at 140°C extrusion temperature, 167 rpm screw speed, and 19% feed moisture content. Results indicate garbanzo flour, and FDDG can be successfully blended with corn grits to produce nutritious gluten-free extruded snacks which are high in protein and dietary fiber.
Keywords
distiller's dried grains,
extrusion,
gluten free,
protein,
total dietary fiber
Citation Information
Poonam Singha, Sushil Kumar Singh, Kasiviswanathan Muthukumarappan and Padmanaban G. Krishnan. "Physicochemical and nutritional properties of extrudates from food grade distiller's dried grains, garbanzo flour, and corn grits"
Food Science and Nutrition
(2018)
Available at: http://works.bepress.com/sushil-singh/9/