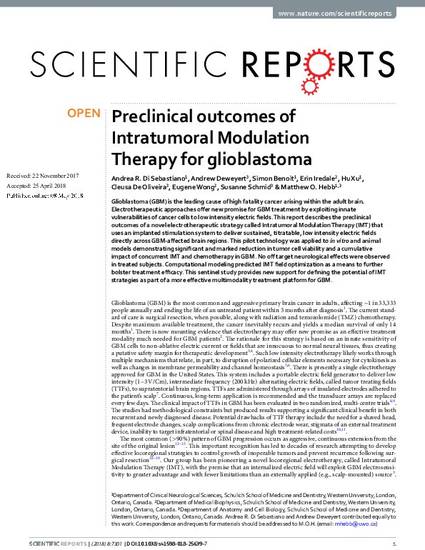 Article
Preclinical outcomes of Intratumoral Modulation Therapy for glioblastoma
Scientific Reports
Publication Date
5-8-2018
URL with Digital Object Identifier
https://doi.org/10.1038/s41598-018-25639-7
Abstract
Glioblastoma (GBM) is the leading cause of high fatality cancer arising within the adult brain. Electrotherapeutic approaches offer new promise for GBM treatment by exploiting innate vulnerabilities of cancer cells to low intensity electric fields. This report describes the preclinical outcomes of a novel electrotherapeutic strategy called Intratumoral Modulation Therapy (IMT) that uses an implanted stimulation system to deliver sustained, titratable, low intensity electric fields directly across GBM-affected brain regions. This pilot technology was applied to in vitro and animal models demonstrating significant and marked reduction in tumor cell viability and a cumulative impact of concurrent IMT and chemotherapy in GBM. No off target neurological effects were observed in treated subjects. Computational modeling predicted IMT field optimization as a means to further bolster treatment efficacy. This sentinel study provides new support for defining the potential of IMT strategies as part of a more effective multimodality treatment platform for GBM.
Creative Commons License
Creative Commons Attribution 4.0
Citation Information
Andrea R Di Sebastiano, Andrew Deweyert, Simon Benoit, Erin Iredale, et al.. "Preclinical outcomes of Intratumoral Modulation Therapy for glioblastoma"
Scientific Reports
Vol. 8 Iss. 1 (2018) p. 7301
Available at: http://works.bepress.com/susanne-schmid/6/