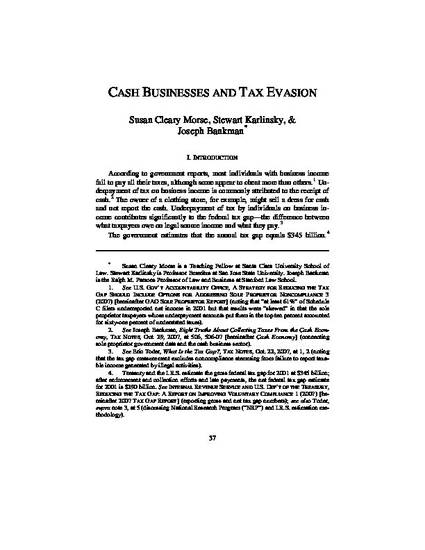 Article
Cash Businesses and Tax Evasion
Stanford Law & Policy Review (2009)
Abstract
This paper offers interview data on the tax compliance behavior of small cash businesses. We find that such businesses systematically underpay income, employment and sales taxes through income underreporting. The results show that participation in a parallel cash economy facilitates tax evasion and that cash business owners seek out sympathetic tax preparers. We also find that norms and opportunity, but not equity or tax complexity, strongly influence such decisions to underreport income. The behavior patterns indicated by our data suggest specific policy tactics in the effort to close the tax gap.
Keywords
tax compliance,
tax evasion,
small businesses
Citation Information
Susan Cleary Morse, Stewart Karlinsky and Joseph Bankman. "Cash Businesses and Tax Evasion"
Stanford Law & Policy Review
Vol. 20 Iss. 1 (2009)
Available at: http://works.bepress.com/susanmorse/2/