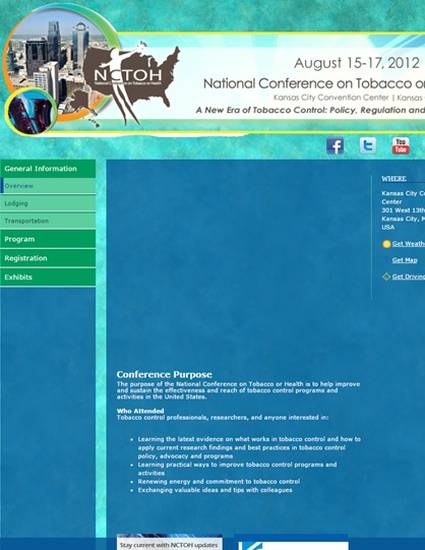 Presentation
Does money talk? Motivating smoking cessation in pregnancy: The MISS Project.
National Conference on Tobacco and Health (2005)
Abstract
Problem/Objective: Smoking during pregnancy continues to be a significant public health problem with negative health effects to both fetus and mother. Women with lower income and education levels are particularly hard to reach. The Maternal Interventions to Stop Smoking (MISS) Project was a three-group randomized controlled trial designed to significantly increase smoking cessation during pregnancy through the use of Best Practice 5As combined with two levels of a contingent reward for biochemically verified abstinence (salivary cotinine <=30 ng/ml (GCMS)) and a third group who received Best Practice 5As.
Methods:Trained providers and staff at 9 private practice prenatal clinics screened their pregnant patients (n=5,768), determined eligibility (<=28 weeks gestation,>= 15 years of age, smoked even a puff in the last 7 days, English speaker/reader), obtained informed consent, and recruited pregnant smokers. Patients (n= 592) were randomized to one of three groups (Best Practice Control, Best Practice plus $25/mo., Best Practice plus $75/mo.) Participants completed Baseline and Follow-up (29-32 weeks gestation) assessments that included a survey, expired air CO, and salivary cotinine. At each intervention month during pregnancy (5 max.) participants completed a brief survey with biochemical tests if self-report abstinent.
Results: Analysis based on intent-to-treat at end of pregnancy with salivary cotinine confirmation indicates a significant treatment effect (p=.02). Data collection has concluded and analysis will be completed December 2004.
Conclusions:Contingency management is a viable strategy for motivating smoking abstinence particularly when combined with Best Practice in clinical settings.
Publication Date
May 5, 2005
Citation Information
Rebecca J. Donatelle, Deanne Hudson, Virginia Lesser, Amy Goodall, et al.. "Does money talk? Motivating smoking cessation in pregnancy: The MISS Project."
National Conference on Tobacco and Health
(2005)
Available at: http://works.bepress.com/susan_roberts-dobie/30/