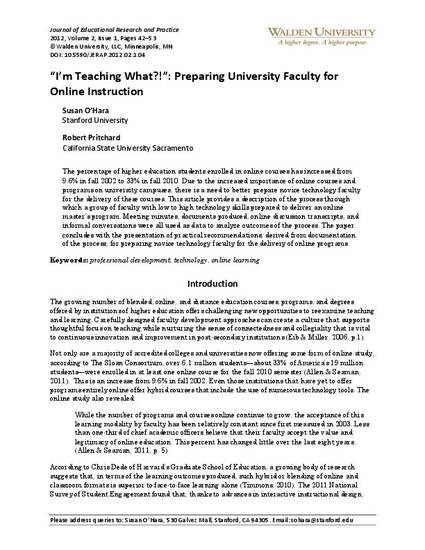 Article
"I'm Teaching What?!": Preparing University Faculty for Online Instruction
Journal of Educational Research and Practice
Abstract
The percentage of higher education students enrolled in online courses has increased from 9.6 percent in fall 2002 to 33 percent in fall 2010. Due to the increased importance of online courses and programs on university campuses there is a need to better prepare novice technology faculty for the delivery of these courses. This article provides a description of the process through which a group of faculty with low to high technology skills prepared to deliver an online masters program. Minutes of meetings, documents produced, online discussion transcripts, and informal conversations were all used as data to analyze outcomes of the process. The paper concludes with the presentation of practical recommendations, derived from documentation of the process, for preparing novice technology faculty for the delivery of online programs.
Citation Information
Susan OHara and Robert Pritchard. ""I'm Teaching What?!": Preparing University Faculty for Online Instruction"
Available at: http://works.bepress.com/susan_ohara/1/