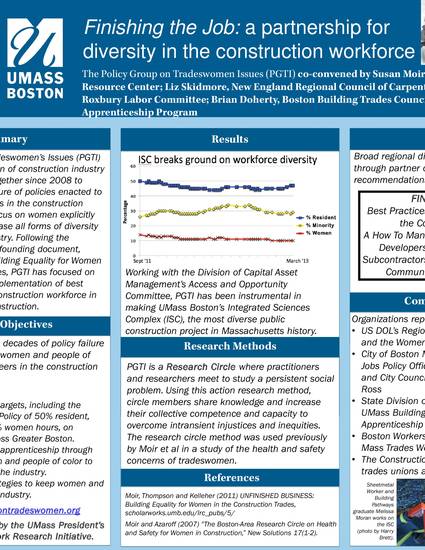 Presentation
Finishing the Job: A Partnership for Diversity in the Construction Workforce
Office of Community Partnerships Posters
Document Type
Presentation
Publication Date
4-10-2013
Abstract
The Policy Group on Tradeswomen's Issues (PGTI) is a regional collaboration of construction industry stakeholders working together since 2008 to tackle the persistent failure of policies enacted to open up good paying jobs in the construction trades to women. Our focus on women explicitly supports efforts to increase all forms of diversity in the construction industry. Following the publication of our 2011 founding document, Unfinished Business: Building Equality for Women in the Construction Trades, PGTI has focused on the development and implementation of best practices for a diverse construction workforce in public and non-profit construction.
Community Engaged/Serving
No, this is not community-engaged.
Citation Information
Susan Moir, Liz Skidmore, Janet Jones and Brian Doherty. "Finishing the Job: A Partnership for Diversity in the Construction Workforce" (2013)
Available at: http://works.bepress.com/susan_moir/9/