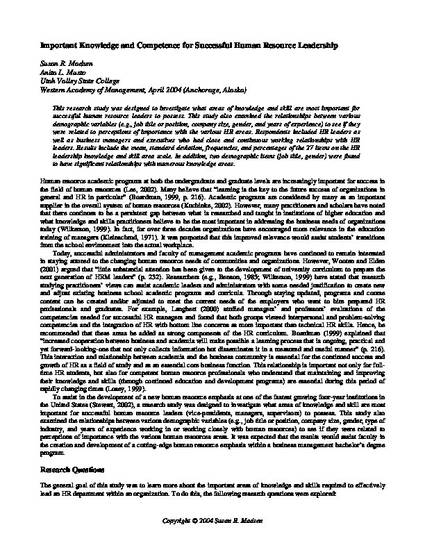 Presentation
Important Knowledge and Competence for Successful Human Resource Leadership
Western Academy of Management (2004)
Abstract
This research study was designed to investigate what areas of knowledge and skill are most important for successful human resource leaders to possess. This study also examined the relationships between various demographic variables (e.g., job title or position, company size, gender, and years of experience) to see if they were related to perceptions of importance with the various HR areas. Respondents included HR leaders as well as business managers and executives who had close and continuous working relationships with HR leaders. Results include the mean, standard deviation, frequencies, and percentages of the 27 items on the HR leadership knowledge and skill area scale. In addition, two demographic items (job title, gender) were found to have significant relationships with numerous knowledge areas.
Keywords
Human Resource,
Leadership,
Traits,
Human Resource Curriculum
Publication Date
April, 2004
Citation Information
Susan R. Madsen and Anita Musto. "Important Knowledge and Competence for Successful Human Resource Leadership"
Western Academy of Management
(2004)
Available at: http://works.bepress.com/susan_madsen/91/