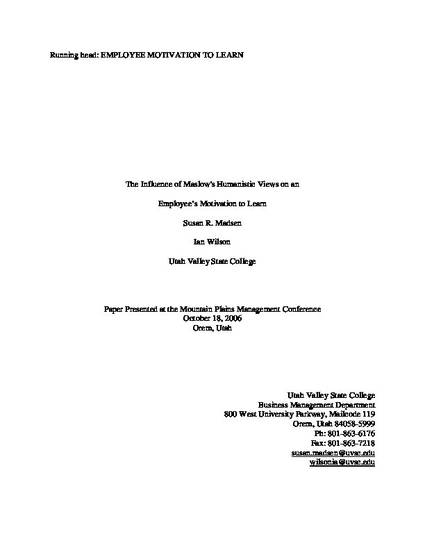 Presentation
The Influence of Maslow's Humanistic Views on an Employee's Motivation to Learn
Mountain Plains Management Conference (2006)
Abstract
Continual employee training and learning is critical to the ability of organizations to adapt to an ever changing national and international business environment. What motivates employees to learn? Abraham Maslow has had a significant impact on motivation theory, humanistic psychology, and subsequently, adult learning in the workplace. This paper will discuss the development of Maslow's humanistic views and trace their impact on past trends in business training as well as the implications for current challenges that managers face in motivating employee learning in the workplace.
Keywords
Motivation,
Maslow,
Humanism,
Employee Motivation
Publication Date
October 18, 2006
Citation Information
Ian Wilson and Susan R. Madsen. "The Influence of Maslow's Humanistic Views on an Employee's Motivation to Learn"
Mountain Plains Management Conference
(2006)
Available at: http://works.bepress.com/susan_madsen/83/