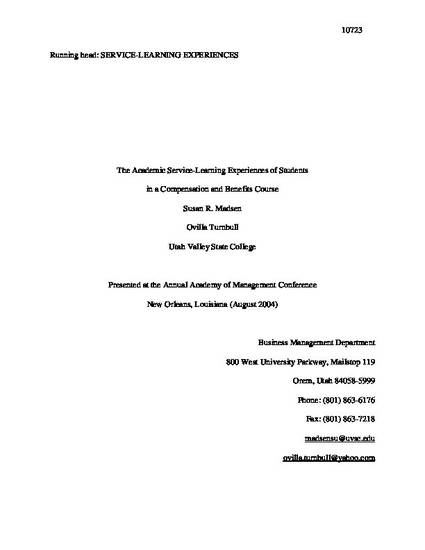 Presentation
The Academic Service-Learning Experiences of Students in a Compensation and Benefits Course
Academy of Management (2004)
Abstract
Management educators today face the continuing challenge of designing courses so that optimal transfer of learning occurs between the classroom and workplace. Researchers (e.g., Knowles, Holton, & Swanson, 1998; Merriam & Caffarella, 1999) have agreed that many adult learners do not effectively remember and transfer learning when taught by traditional teaching and learning pedagogies (e.g., lecture). It appears, however, that these methods continue to be most prevalent in management education today. During the past few decades other methods of engaging students in learning have emerged. A promising pedagogy that appears to provide students with the opportunity to transfer their course content knowledge and skills (learning) from the classroom into the workplace is academic service-learning. However, little has been reported on its use in the human resource management academic area. The purpose of this phenomenological study was to explore the perceptions and experiences of students who had recently and successfully completed an academic service-learning project for an undergraduate compensation and benefits course. Four specific themes or categories emerged from ten in-depth student interviews. These included perceptions related to pedagogical differences, student learning, personal benefits, and challenges and problems. Findings support the premise that, although service-learning was somewhat frustrating, challenging, and overwhelming for many college seniors, all felt that they learned and benefited more from this project or assignment than from any other they had experienced.
Keywords
Service-Learning,
Management Education,
Human Resource Education
Publication Date
August, 2004
Citation Information
Susan R. Madsen and Ovilla Turnbull. "The Academic Service-Learning Experiences of Students in a Compensation and Benefits Course"
Academy of Management
(2004)
Available at: http://works.bepress.com/susan_madsen/73/