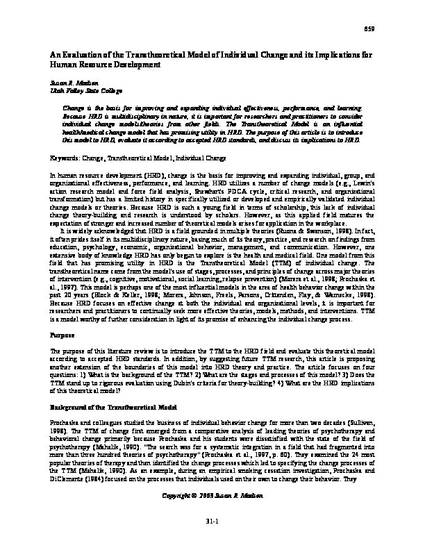 Presentation
An Evaluation of the Transtheoretical Model of Individual Change and its Implications for Human Resource Development
Academy of Human Resource Development Research Conference of the Americas (2003)
Abstract
Change is the basis for improving and expanding individual, group, and organizational effectiveness, performance, and learning. However, HRD has utilized and developed few empirically validated individual change models or theories. Because HRD is a multidisciplinary in nature, it is important for researchers and practitioners to consider what models or theories others have to offer. One influential model from the health and medical field that has promising utility in HRD is the Transtheoretical Model (TTM) of individual change. The purpose of this article is to introduce this model and explore its application to HRD. This article uses Dubin's criteria for theory-building as a general framework for discussing the TTM's background, components, related constructs, and limitations. In addition, it presents the implications of this theoretical model to HRD.
Keywords
Transtheoretical Model of Change,
Readiness for Change,
Individual Change,
TTM,
HRD
Citation Information
Susan R. Madsen. "An Evaluation of the Transtheoretical Model of Individual Change and its Implications for Human Resource Development"
Academy of Human Resource Development Research Conference of the Americas
(2003)
Available at: http://works.bepress.com/susan_madsen/38/