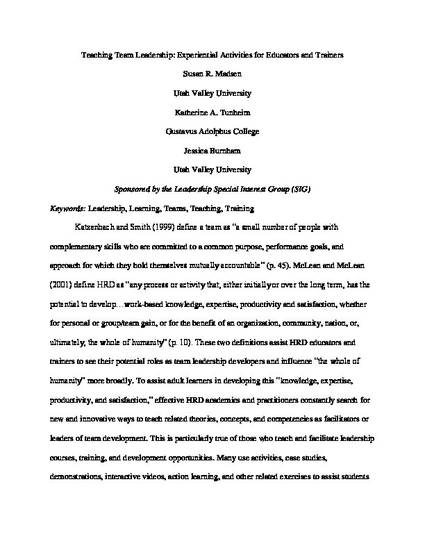 Presentation
Teaching Team Leadership: Experiential Activities for Educators and Trainers
AHRD Research Conference of the Americas (2012)
Abstract
In this "Teaching Team Leadership through Experiential Activities" session—sponsored by the Leadership Special Interest Group—participants will learn different team leadership activities that can be used in teaching different leadership theories and concepts. The facilitators will use the following process in presenting these activities to innovative session attendees: discuss and present the activity (listen and learn), have participants experience the activity (practice using it hands on), and provide attendees the opportunity to discuss their experiences with others in small groups (reflection). Each attendee will also receive a handout that provides the descriptions of each team activity and the leadership theory, concept, or skill it helps teach. This will include references and lists of additional resources.
Keywords
team activities,
tools,
teaching
Publication Date
Spring March 3, 2012
Citation Information
Susan R. Madsen, Kathi Tunheim and Jessica Burnham. "Teaching Team Leadership: Experiential Activities for Educators and Trainers"
AHRD Research Conference of the Americas
(2012)
Available at: http://works.bepress.com/susan_madsen/200/