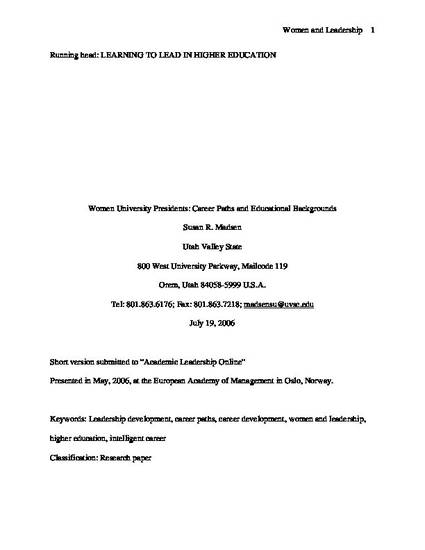 Presentation
Women University Presidents: Career Paths and Educational Backgrounds
European Academy of Management (2006)
Abstract
The purpose of this paper is to report findings related to the lived experiences of women university presidents' in developing the knowledge, skills, abilities, and competencies required for successful leadership in higher education. More specifically, this report focuses on their educational backgrounds and career paths. Using qualitative in-depth interviews (phenomenological research methodology), ten women university presidents were interviewed for two to three hours each. Interviews were audio taped and transcribed, and theme generation techniques used. Although there were some similarities among the women in terms of educational backgrounds and employment positions, the data show that presidents can emerge from a wide variety of backgrounds and experiences. Specific job titles are not as important as opportunities to learn and develop through a wide-variety of positions, responsibilities, and experiences. It was discovered that no president followed a formal career path. There is little research currently published on the leadership development of women university presidents. This paper offers important implications. Understanding the experiences and perceptions of these women provides insight into the types of activities, influences, and experiences that are beneficial for women to develop the needed knowledge, skills, and competencies required for effective leadership.
Keywords
Career Paths,
Women,
Leadership,
Leadership Development,
University Presidents,
Higher Education
Publication Date
May, 2006
Citation Information
Susan R. Madsen. "Women University Presidents: Career Paths and Educational Backgrounds"
European Academy of Management
(2006)
Available at: http://works.bepress.com/susan_madsen/18/