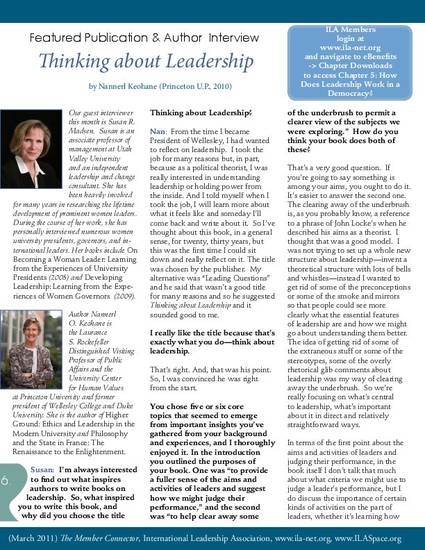 Popular Press
Thinking about Leadership by Nanerl Keohane (Featured Publication & Author Interview)
The Member Connection (International Leadership Association) (2011)
Abstract
Our guest interviewer this month is Susan R. Madsen. Susan is an associate professor of management at Utah Valley University and an independent leadership and change consultant. She interviewed author Nannerl O. Keohane is the Laurance S. Rockefeller Distinguished Visiting Professor of Public Affairs and the University Center for Human Values at Princeton University and former president of Wellesley College and Duke University. She is the author of Higher Ground: Ethics and Leadership in the Modern University and Philosophy and the State in France: The Renaissance to the Enlightenment.
Publication Date
March, 2011
Citation Information
Susan R. Madsen. "Thinking about Leadership by Nanerl Keohane (Featured Publication & Author Interview)"
The Member Connection (International Leadership Association)
(2011)
Available at: http://works.bepress.com/susan_madsen/158/