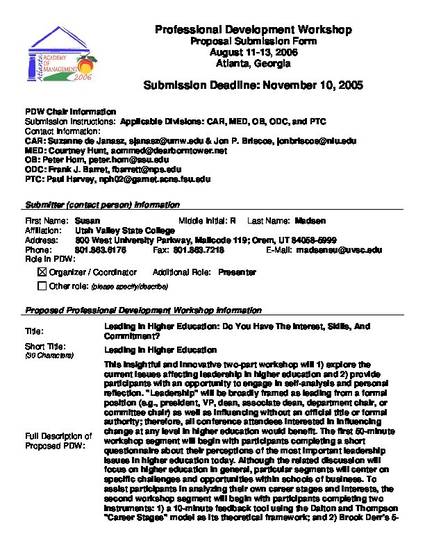 Presentation
Leadership in Higher Education: Do You Have the Interest, Skills, and Commitment? (Professional Development Workshop)
Academy of Management (2006)
Abstract
This insightful and innovative two-part workshop will 1) explore the current issues affecting leadership in higher education and 2) provide participants with an opportunity to engage in self-analysis and personal reflection. "Leadership" will be broadly framed as leading from a formal position (e.g., president, VP, dean, associate dean, department chair, or committee chair) as well as influencing without an official title or formal authority; therefore, all conference attendees interested in influencing change at any level in higher education would benefit. The first 50-minute workshop segment will begin with participants completing a short questionnaire about their perceptions of the most important leadership issues in higher education today. Although the related discussion will focus on higher education in general, particular segments will center on specific challenges and opportunities within schools of business. To assist participants in analyzing their own career stages and interests, the second workshop segment will begin with participants completing two instruments: 1) a 10-minute feedback tool using the Dalton and Thompson "Career Stages" model as its theoretical framework; and 2) Brook Derr's 5-minute "Career Orientation" instrument that will explore participant's perceptions of the most important things in their workplaces. After a 25-minute large group debriefing exercise, the participants will begin 30-minute roundtables discussing their personal results and the implications for their personal leadership decisions. This workshop will conclude with a 30-minute general discussion of the implications of these personal findings to higher education as well as the leadership development needed to acquire the knowledge, skills, and abilities necessary for successful leadership in higher education today.
Keywords
Women,
Higher Education,
Leadership,
Administration,
Leadership Development
Publication Date
August, 2006
Citation Information
Susan R. Madsen. "Leadership in Higher Education: Do You Have the Interest, Skills, and Commitment? (Professional Development Workshop)"
Academy of Management
(2006)
Available at: http://works.bepress.com/susan_madsen/119/