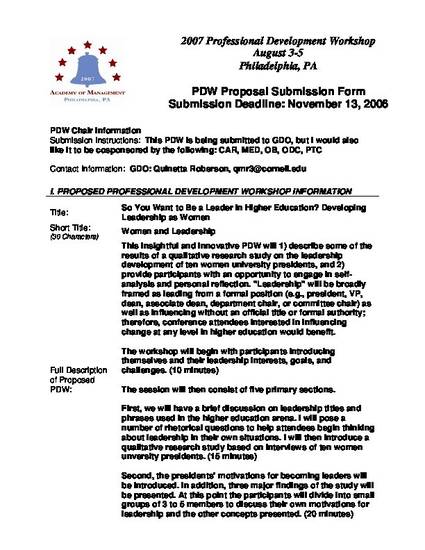 Presentation
So You Want to be a Leaders in Higher Education? Developing Leadership as Women (Professional Development Workshop)
Academy of Management (2007)
Abstract
This insightful and innovative PDW will 1) describe some of the results of a qualitative research study on the leadership development of ten women university presidents, and 2) provide participants with an opportunity to engage in self-analysis and personal reflection. "Leadership" will be broadly framed as leading from a formal position (e.g., president, VP, dean, associate dean, department chair, or committee chair) as well as influencing without an official title or formal authority; therefore, conference attendees interested in influencing change at any level in higher education would benefit.
Keywords
Higher Education,
Women,
Administration,
Leadership,
Leadership Development
Publication Date
August, 2007
Citation Information
Susan R. Madsen. "So You Want to be a Leaders in Higher Education? Developing Leadership as Women (Professional Development Workshop)"
Academy of Management
(2007)
Available at: http://works.bepress.com/susan_madsen/115/