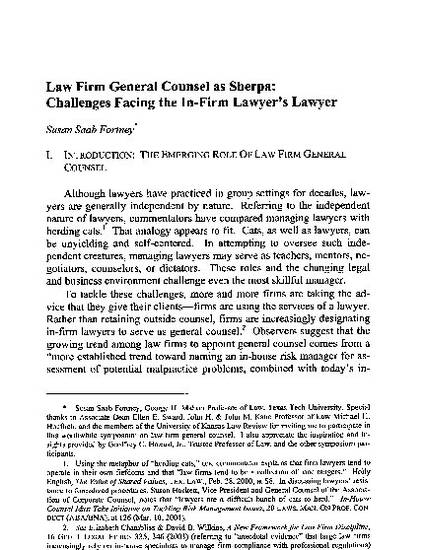 Article
Law Firm General Counsel as Sherpa: Challenges Facing the In-Firm Lawyer's Lawyer
University of Kansas Law Review
Abstract
This article addresses the increasing trend in law firms appointing general counsel. Part I of this article provides an overview of the frequency of law firms employing the services of general counsel and the different roles general counsel may assume in law firms. Part II outlines the duties of general counsel in advising the firm on matters related to firm structure. Part III observes that general counsel may play an important role in helping law firms choose the most appropriate method to compensate its lawyers to achieve the desired results. Part IV stresses the importance of the preventative measures general counsel should take to help law firms avoid employment claims. The conclusion argues that general counsel has the potential to benefit law firms by acting as a guide through various legal and organizational challenges.
Citation Information
Susan Saab Fortney. "Law Firm General Counsel as Sherpa: Challenges Facing the In-Firm Lawyer's Lawyer"
University of Kansas Law Review
Vol. 53 Iss. 4 (2005) p. 835 - 851
Available at: http://works.bepress.com/susan_fortney/55/