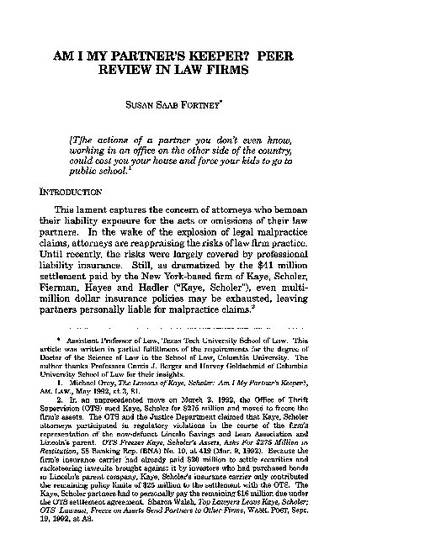 Article
Am I My Partner's Keeper? Peer Review in Law Firms
University of Colorado Law Review
Abstract
This article explores the concept of peer review in the practice of law. The article begins with an introduction to law partners' liability exposure for the acts or omissions of their law partners. The article explains how this exposure has traditionally been approached as vicarious liability and how the government is attempting to transform these issues into direct liability by using failure to monitor claims. Part I briefly reviews perspectives on the emergence, growth, and structure of law firms, then uses a matrix to show how firm culture and organizational structure affect internal and external controls on attorney conduct. Part II discusses the concept of law firm peer review and identifies its goals and purposes. Part III considers whether law firm principals have a legal duty to monitor their peers. Part IV summarizes the organized bar's initiative relating to peer review. Part V reviews types of law firm peer review. Part VI concludes by speculating on the future of peer review.
Citation Information
Susan Saab Fortney. "Am I My Partner's Keeper? Peer Review in Law Firms"
University of Colorado Law Review
Vol. 66 Iss. 2 (1995) p. 329 - 373
Available at: http://works.bepress.com/susan_fortney/51/