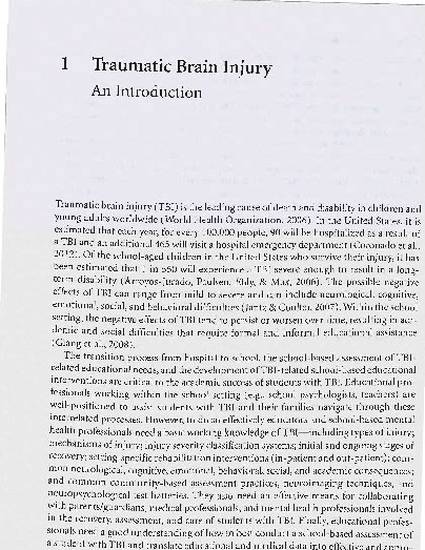 Book
Working with Traumatic Brain Injury in Schools: Transition, Assessment, and Intervention
Counselor Education and Human Services Faculty Publications
Publication Date
1-1-2014
Abstract
Every day, children and adolescents worldwide return to the educational setting having sustained a traumatic brain injury (TBI). The possible negative consequences of TBI range from mild to severe and include neurological, cognitive, emotional, social, and behavioral difficulties. Within the school setting, the negative effects of TBI tend to persist or worsen over time, often resulting in academic and social difficulties that require formal and informal educational assistance and support. School psychologists and other educational professionals are well-positioned to help ensure students with TBI receive this assistance and support.
Document Version
Published Version
Copyright
Copyright © 2014 from
Working with Traumatic Brain Injury in Schools: Transition, Assessment, and Intervention
by Paul B. Jantz, Susan C. Davies, and Erin D. Bigler. Reproduced by permission of Taylor and Francis Group, LLC, a division of Informa plc. This material is strictly for personal use. For any other use, the user must contact Taylor & Francis directly at this address: permissions.mailbox@taylorandfrancis.com. Printing, photocopying, or sharing via any means is a violation of copyright.
Publisher
Taylor and Francis
Place of Publication
New York, NY
Citation Information
Paul B. Jantz, Susan C. Davies and Erin D. Bigler. Working with Traumatic Brain Injury in Schools: Transition, Assessment, and Intervention. (2014)
Available at: http://works.bepress.com/susan_davies/84/