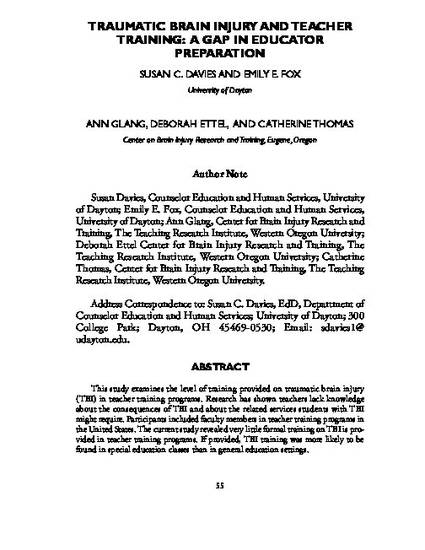 Article
Traumatic Brain Injury and Teacher Training: A Gap in Educator Preparation
Physical Disabilities: Education and Related Services
Publication Date
3-1-2013
Abstract
This study examines the level of training provided on traumatic brain injury (TBI) in teacher training programs. Research has shown teachers lack knowledge about the consequences of TBI and about the related services students with TBI might require. Participants included faculty members in teacher training programs in the United States. The current study revealed very little formal training on TBI is provided in teacher training programs. If provided, TBI training was more likely to be found in special education classes than in general education settings.
Copyright
Copyright © 2013, Division for Physical, Health and Multiple Disabilities
Publisher
Council for Exceptional Children's Division for Physical, Health, and Multiple Disabilities
Citation Information
Susan C. Davies, Emily E. Fox, Ann Glang, Deborah Ettel, et al.. "Traumatic Brain Injury and Teacher Training: A Gap in Educator Preparation"
Physical Disabilities: Education and Related Services
Vol. 32 Iss. 1 (2013)
Available at: http://works.bepress.com/susan_davies/44/