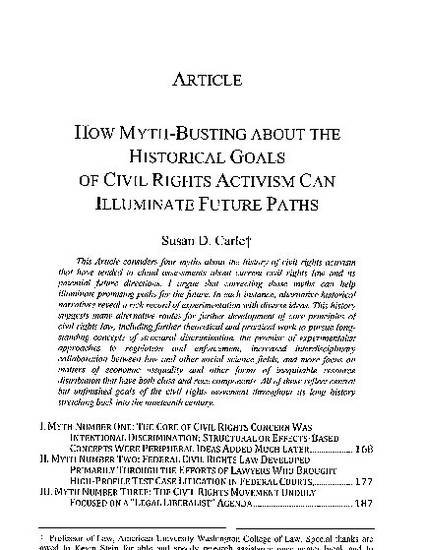 Article
How Myth-Busting about the Historical Goals of Civil Rights Activism Can Illuminate Paths for the Future
Stanford Journal of Civil Rights & Civil Liberties (2011)
Abstract
This article considers four myths about the history of civil rights activism, taht have tended to cloud assessments about current current civil rights law and its potential future directions. I argue that correcting those myths can help illunundile promising paths for the future. In each instance, alternative historical narrative routes for further development of core principles of civil rights law, including further theoretical and practical work to pursue long-standing concepts of structural discrimination, the promise of experimentalist approaches to regulation and enforcement, increased interdisciplinary colaboration between law and other social science fields, and more focus on matters of economic inequality and other forms of inequitable resource disiribution that both class and race components. All of these reflect central hut unfinished goals of the civil rights movement throughout its long history stretching back into the nineteenth century.
Keywords
Civil Rights,
Civil Rights Law
Publication Date
Fall October, 2011
Citation Information
Susan D. Carle. "How Myth-Busting about the Historical Goals of Civil Rights Activism Can Illuminate Paths for the Future"
Stanford Journal of Civil Rights & Civil Liberties
Vol. 7 Iss. 2 (2011) p. 167 - 195 ISSN: 1553-7226
Available at: http://works.bepress.com/susan_carle/37/