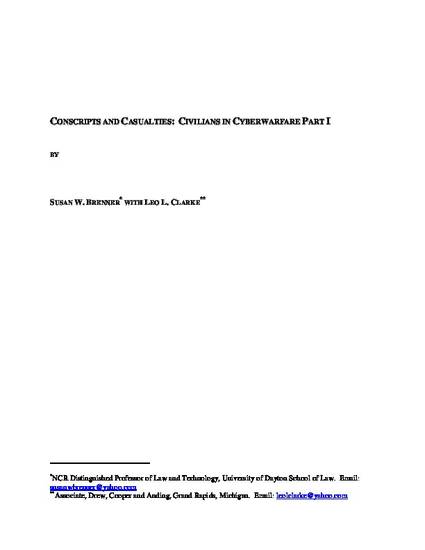 Article
Civilians in Cyberwarfare: Conscripts
Vanderbilt Journal of Transnational Law (2010)
Abstract
Civilians will play an integral role in cyberwar because civilian-owned and –operated entities will be a primary target in cyberwarfare. An attacker's goal in cyberwar is not to capture physical territory but to erode, even destroy, the target nation's viability as an economy and, indeed, as a sovereign entity. To do that, a cyberattacker will target the companies that own and operate aspects of the victim nation's critical infrastructure; those civilians will need to be incorporated into a defensive cyberwarfare response structure if such a response is to be effective. We explain why the use of civilians is essential and why their utilization in cyberwarfare is really an extention of the military's increasing use of civilian contractors in conventional warfare. We explore how the U.S. government can go about compelling civilian cooperation in cyberwar without violating constitutional guarantees and limitations on the power of the legislature and the executive.
Keywords
cyberwarfare,
conscription,
nationalization,
law of armed conflict
Publication Date
Fall 2010
Citation Information
Susan W. Brenner and Leo L. Clarke. "Civilians in Cyberwarfare: Conscripts"
Vanderbilt Journal of Transnational Law
Vol. 43 (2010)
Available at: http://works.bepress.com/susan_brenner/2/