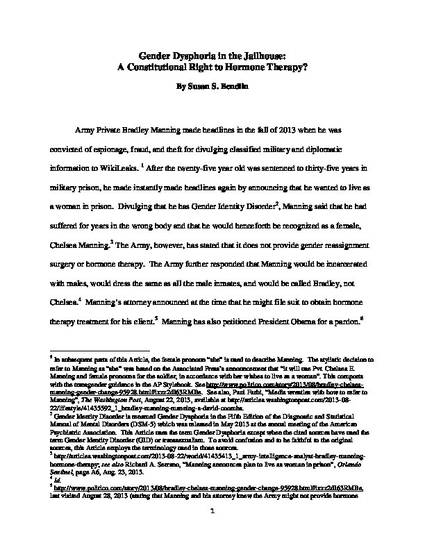 Article
Gender Dysphoria in the Jailhouse: A Constitutional Right to Hormone Therapy?
Cleveland State Law Review (2014)
Abstract
This Article explores whether incarcerated inmates with Gender Dysphoria, such as Private Manning, have a constitutional right to receive medical treatment for gender re-assignment, and if so, whether they are likely to succeed in suing to obtain treatment if it is not provided by prison officials. Evaluating a prisoner's Eighth Amendment claim involves two inquiries: an objective component as to whether the inmate displays a "serious medical need", and a subjective component as to whether the prison officials were "deliberately indifferent" to that need.The issue is a sensitive one because the diagnosis of Gender Dysphoria as a medical illness has a negative connotation to members of the transgendered community, but if the condition is not recognized as an illness, then medical treatment will not be deemed necessary. This Article advocates providing medical treatment to incarcerated transgender inmates who request it and who are properly diagnosed by medical professionals. Although some individuals (as well as some courts and some wardens) may contend that such medical treatment is not necessary, the predominant view is that some care is needed in order to comply with the Eighth Amendment and the evolving moral standards in this country.
Keywords
gender identity disorder,
prisoner,
inmate,
8th Amendment,
medical treatment,
hormone therapy,
transsexual
Citation Information
Susan S. Bendlin. "Gender Dysphoria in the Jailhouse: A Constitutional Right to Hormone Therapy?"
Cleveland State Law Review
Vol. 61 Iss. 4 (2014)
Available at: http://works.bepress.com/susan_bendlin/5/