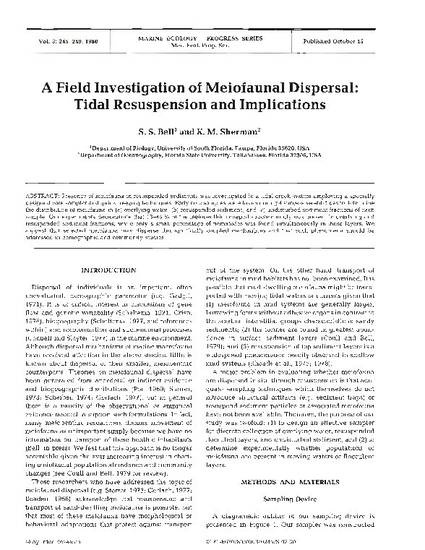 Article
A Field Investigation of Meiofaunal Dispersal: Tidal Resuspension and Implications
Marine Ecology - Progress Series
Publication Date
10-15-1980
Abstract
Presence of meiofauna in resuspended sediments was investigated in a tidal creek system employing a specially designed core sampler and quick freezing techniques. Forty core samples were taken during 4 successive ebb tides to determine the distribution of meiofauna in (a) overlying water; (b) resuspended sediment; and (c) undisturbed sediment fractions of each sample. Our experiments demonstrate that 13-44 % of the meiobenthic copepod subcommunity was present in overlying and resuspended sediment fractions, while only a small percentage of nematodes was found simultaneously in these layers. We suggest that selected meiofauna may disperse through tidally coupled mechanisms and that such phenomena should be addressed in demographic and community studies.
Rights Information
Default Rights Statement
Citation / Publisher Attribution
Marine Ecology - Progress Series, v. 3, no. 3, p. 245-249.
Citation Information
Susan S. Bell and K. M. Sherman. "A Field Investigation of Meiofaunal Dispersal: Tidal Resuspension and Implications"
Marine Ecology - Progress Series
Vol. 3 Iss. 3 (1980) p. 245 - 249
Available at: http://works.bepress.com/susan_bell/4/