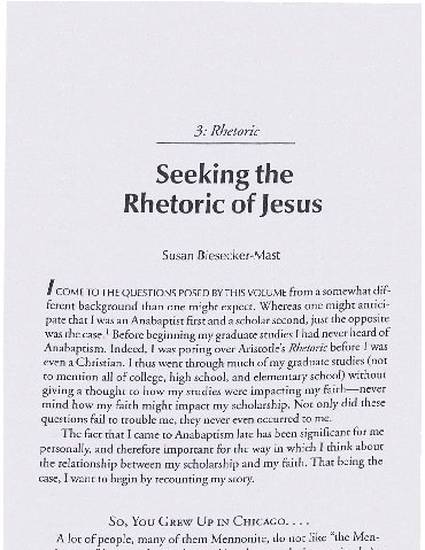 Article
Seeking the Rhetoric of Jesus
Minding the Church: Scholarship in the Anabaptist Tradition
Document Type
Book Chapter
Publication Date
1-1-2002
Abstract
I come to the questions posed by this volume from a somewhat different background than one might expect. Whereas one might anticipate that I was an Anabaptist first and a scholar second, just the opposite was the case. I Before beginning my graduate studies I had never heard of Anabaptism. Indeed, I was poring over Aristotle's Rhetoric before I was even a Christian. I thus went through much of my graduate studies (not to mention all of college, high school, and elementary school) without giving a thought to how my studies were impacting my faith-never mind how my faith might impact my scholarship. Not only did these questions fail to trouble me, they never even occurred to me. The fact that I came to Anabaptism late has been significant for me personally, and therefore important for the way in which I think about the relationship between my scholarship and my faith.
Document Version
Published Version
Copyright
Copyright © 2002, Pandora Press
Place of Publication
Telford, PA
Citation Information
Susan L. Trollinger. "Seeking the Rhetoric of Jesus"
Minding the Church: Scholarship in the Anabaptist Tradition
(2002)
Available at: http://works.bepress.com/susan-trollinger/9/