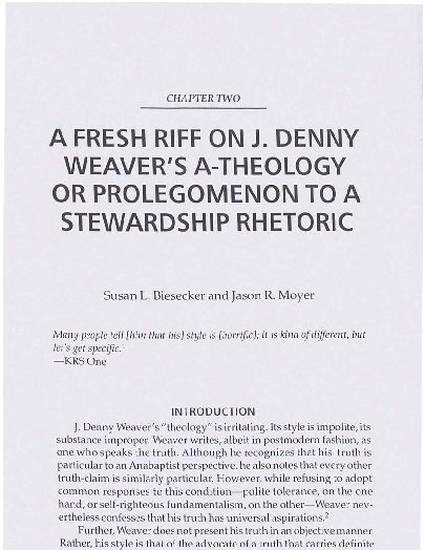 Article
A Fresh Riff on J. Denny Weaver's A-Theology or Prolegomenon to a Stewardship Rhetoric
The Work of Jesus Christ in Anabaptist Perspective: Essays in Honor of J. Denny Weaver
Document Type
Book Chapter
Publication Date
1-1-2008
Abstract
J. Denny Weaver's "theology" is irritating. Its style is impolite, its substance improper. Weaver writes, albeit in postmodern fashion, as one who speaks the truth. Although he recognizes that his truth is particular to an Anabaptist perspective, he also notes that every other truth-claim is similarly particular. However, while refusing to adopt common responses to this condition-polite tolerance, on the one hand, or self-righteous fundamentalism, on the other-Weaver nevertheless confesses that his truth has universal aspirations.
Document Version
Published Version
Copyright
Copyright © 2008, Cascadia Publishing House
Publisher
Cascadia Publishing House
Place of Publication
Telford, PA
Citation Information
Susan L. Trollinger and Jason R. Moyer. "A Fresh Riff on J. Denny Weaver's A-Theology or Prolegomenon to a Stewardship Rhetoric"
The Work of Jesus Christ in Anabaptist Perspective: Essays in Honor of J. Denny Weaver
(2008)
Available at: http://works.bepress.com/susan-trollinger/3/