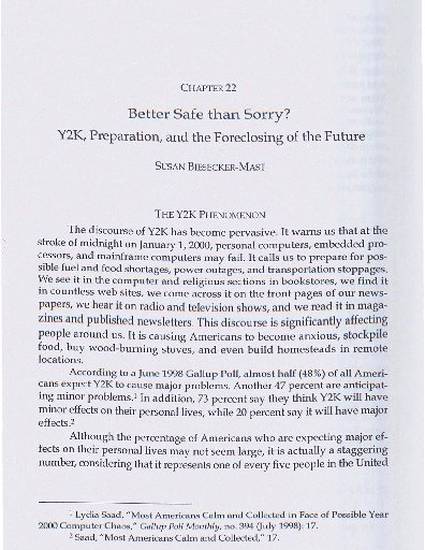 Article
Better Safe than Sorry? Y2K, Preparation, and the Foreclosing of the Future
Apocalypticism and Millennialism: Shaping a Believers Church Eschatology for the Twenty-First Century
Document Type
Book Chapter
Publication Date
1-1-2000
Abstract
My purpose in taking a rhetorical approach to Y2K discourse is threefold. First, by suspending the question of h·uth and asking a question of rhetorical effects, I can take this popular discourse seriously without granting at the outset its claim to truth in its predictions. Second, a rhetorical approach enables me to study how the discourse works and what its effects are. Third, a study of its workings and effects may provide occasion to move beyond the binary oppositions Y2K discourse seeks to pose between belief and unbelief, preparedness and foolishness. Resisting those binaries allows one to answer other questions of huth - questions not about the accuracy of its warnings, but about its faithfulness to the gospel. My purpose is to suggest an alternative believers church response to the apparently compelling urgency of Y2K.
Document Version
Published Version
Copyright
Copyright © 2000, Pandora Press
Place of Publication
Kitchener, Ontario, Canada
Citation Information
Susan L. Trollinger. "Better Safe than Sorry? Y2K, Preparation, and the Foreclosing of the Future"
Apocalypticism and Millennialism: Shaping a Believers Church Eschatology for the Twenty-First Century
(2000)
Available at: http://works.bepress.com/susan-trollinger/16/