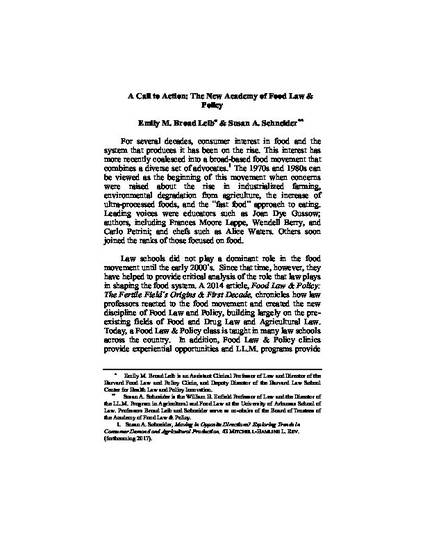 Article
A Call to Action: The New Academy of Food Law & Policy
Journal Food Law & Policy (2017)
Abstract
For several decades, consumer interest in food and the system that produces it has been on the rise. This interest has more recently coalesced into a broad-based food movement that combines a diverse set of advocates.
1
The 1970s and 1980s can be viewed as the beginning of this movement when concerns were raised about the rise in industrialized farming, environmental degradation from agriculture, the increase of ultra-processed foods, and the "fast food" approach to eating. Leading voices were educators such as Joan Dye Gussow; authors, including Frances Moore Lappe, Wendell Berry, and Carlo Petrini; and chefs such as Alice Waters. Others soon joined the ranks of those focused on food. 
Citation Information
Susan A Schneider and Emily M. Broad Leib. "A Call to Action: The New Academy of Food Law & Policy"
Journal Food Law & Policy
Vol. 13 (2017) p. 1
Available at: http://works.bepress.com/susan-schneider/20/