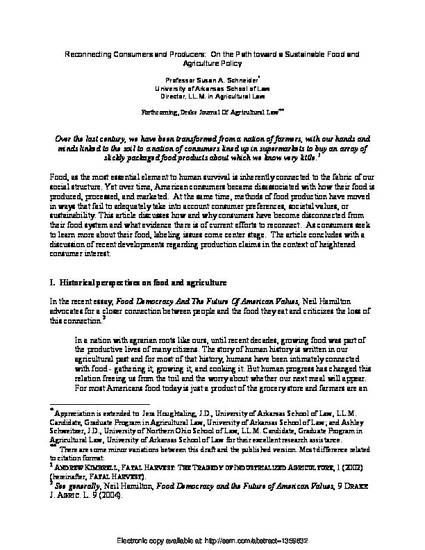 Article
Reconnecting Consumers and Producers: On the Path Toward a Sustainable Food and Agriculture Policy
Drake Journal of Agricultural Law (2009)
Abstract
Food, as the most essential element to human survival is inherently connected to the fabric of our social structure. Yet over time, American consumers have become disassociated with how their food is produced, processed, and marketed. At the same time, methods of food production have moved in ways that fail to adequately take into account consumer preferences, societal values, or sustainability. This article examines how and why consumers have become disconnected from the food system and what evidence there is of current efforts to reconnect. As consumers seek to learn more about their food, labeling issues come center stage. The article concludes with a discussion of recent developments regarding production claims in the context of heightened consumer interest.
Keywords
food,
agriculture,
production claim,
consumer,
sustainability
Citation Information
Susan A Schneider. "Reconnecting Consumers and Producers: On the Path Toward a Sustainable Food and Agriculture Policy"
Drake Journal of Agricultural Law
(2009)
Available at: http://works.bepress.com/susan-schneider/2/