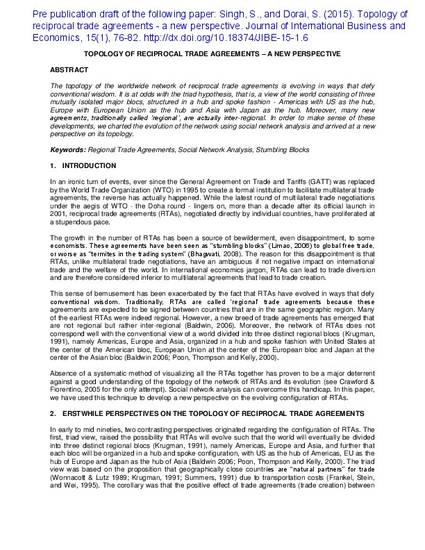 Article
Topology of Reciprocal Trade Agreements – A New Perspective
Journal of International Business and Economics
Publication Date
1-1-2015
Abstract
The topology of the worldwide network of reciprocal trade agreements is evolving in ways that defy conventional wisdom. It is at odds with the triad hypothesis, that is, a view of the world consisting of three mutually isolated major blocs, structured in a hub and spoke fashion - Americas with US as the hub, Europe with European Union as the hub and Asia with Japan as the hub. Moreover, many new agreements, traditionally called 'regional', are actually inter-regional. In order to make sense of these developments, we charted the evolution of the network using social network analysis and arrived at a new perspective on its topology.
Version
The article available for download here is the pre-print version. Locate the version of record using the DOI below.
DOI
http://dx.doi.org/10.18374/JIBE-15-1.6
Citation Information
Suresh Singh and Sundaram Dorai. "Topology of Reciprocal Trade Agreements – A New Perspective"
Journal of International Business and Economics
(2015)
Available at: http://works.bepress.com/suresh-singh/3/